Your Automated AP is Off to a Good Start
Let Scrypt Finish the Process Better Payments Through Virtual Cards
Virtual cards make payments faster, smarter and more secure
CFOs and finance teams can finally move away from the traditional, error-prone payment method of paper checks with confidence. Virtual cards, and other types of electronic payments, accelerate the payment process by eliminating manual tasks like keying data, shuffling paper, tracking down information and dealing with questions from suppliers.
Scrypt's payment solution saves time by automatically making supplier payments for you. These electronic payments eliminate the need for printing, signing and mailing checks, so they're faster. The solution even automatically reconciles and posts them too.
Virtual cards allow you to reduce costs by eliminating the manual tasks and the paper associated with them. You'll also save by preventing costly human errors or the need to hire more staff as you grow.
When AP teams are free from repetitive manual tasks, you improve efficiency and create time for them to focus on higher level work.
Optimize cash flow easily. Because the solution automatically keeps track of critical dates, you'll never pay a late fee again and can take full advantage of early payment discounts.
Finally, virtual cards offer increased security. Each Visa vCard is automatically generated with a unique number that authorizes a specific payment to a designated supplier, minimizing the risk of fraud or theft.
Scrypt is the last step in a fully revolutionized AP department. Want to see how it works before you take it? Schedule a demo today!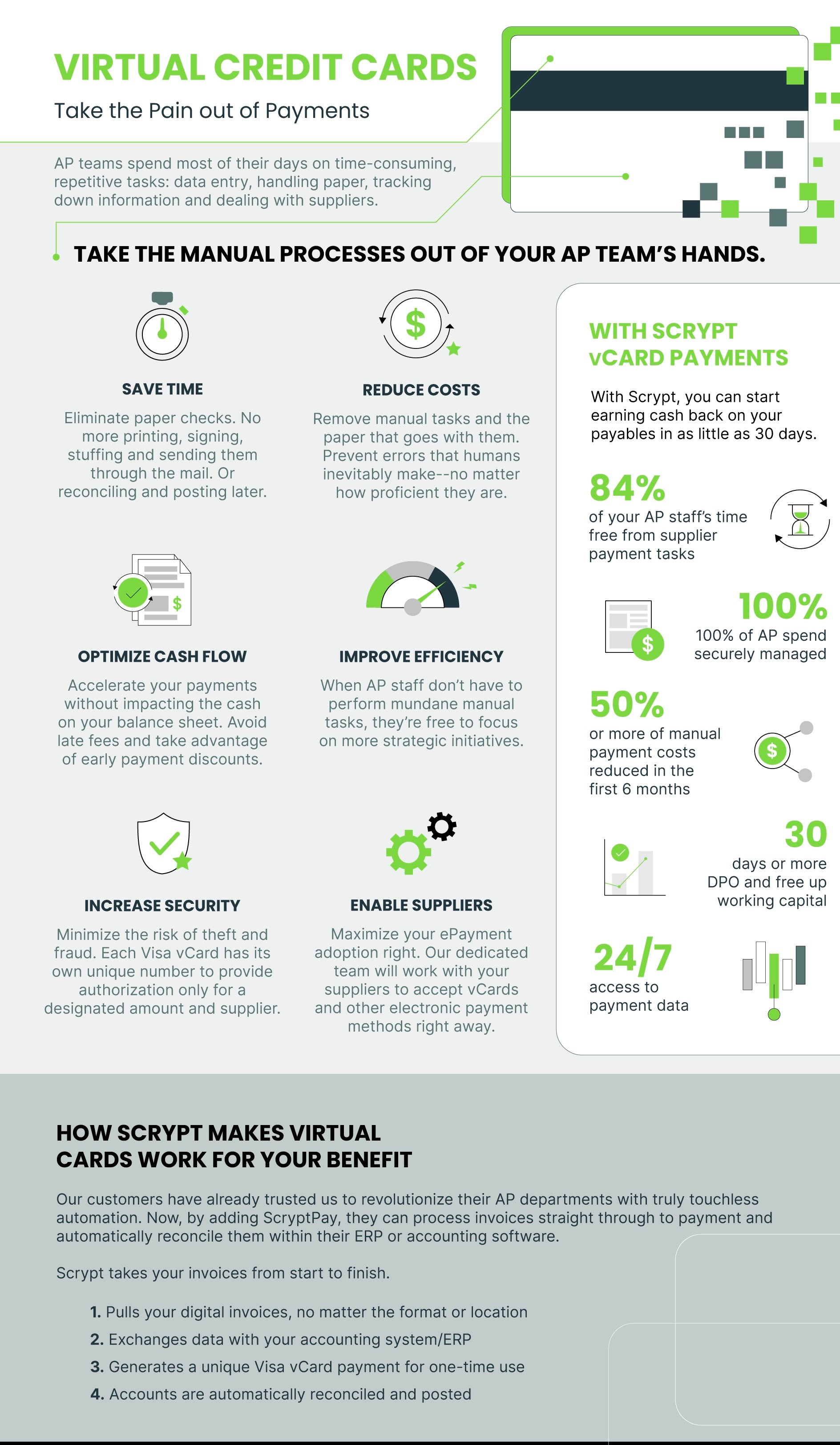 The Future of Payments is Here.
Stop spending time on manual tasks and make smarter, more secure payments with Scrypt, the leader in next level payables automation. Take a look at how Scrypt can work for you by scheduling a demo today.